New World Disorder: Aon Advanced Risk Conference 2017
The Aon Advanced Risk Conference 2017 built on last year's conference theme of the "Risk Revolution" and delved deeper into the "New World Disorder" - revealing ways to improve risk management in an increasingly complex world.
In its 13th year, the Advanced Risk Conference featured some of the most accomplished local and international risk thought-leaders exploring the new driving factors adding urgency and complexity to traditional risks, as revealed in the findings of Aon's 2017 Global Risk Management Survey.
Key highlights
New World Disorder - Micro and Macro Implications for Australia
WannaCry, The Dark Web and Cyber Crime - What Does it Mean?
Managing Cyber Risk in the Current Business Environment
How to Build Effective Risk Culture
Navigating the D&O Storm
Mental Health - What is it truly costing your organisation?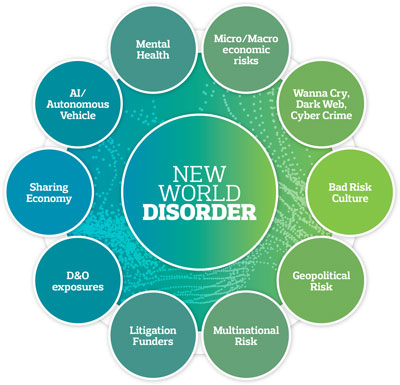 Download the insights to stay ahead of global trends so you can translate them at a local level.
---
If you elect to comment or engage with our content via third-party social media websites, you authorise Aon to have access to certain social media profile information. Please click here to learn more about information that may be collected when using these tools on Aon.com