Mining

The Current Landscape
With rising concerns about global warming and a push toward ethical underwriting, mining companies operating in today's landscape are facing a unique set of insurance challenges. Aon's 2017 Global Risk Management Survey identified the following top 10 risk concerns for miners.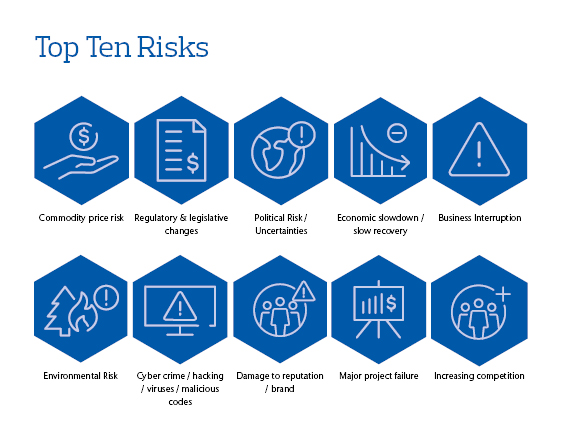 With all these risks being considered, companies in the mining sector require both insurance and risk management programs that are exceptionally effective, to reduce the cost of risk, and to help satisfy a breadth of regulatory requirements.
Aon's Mining Team supports mining organisations through challenging circumstances, helping them to optimise their risk-taking and risk management activities. With significant project development, exploration and operational site expertise, Aon combines this with a desire to understand the complexities of our clients' activities, to create optimal solutions.
What Does Your Organisation Need?
To appropriately manage the risks in this sector, organisations must create insurance programs that are closely aligned to their company's risk tolerance. This should be a continually evolving process as projects progress through the exploration, design and operational phases.
When working with Aon, mining companies can be assured that all risks will be identified, as our mining specialists partner closely with clients to address all risk issues at their sites.
Value Adding Solutions for the Mining Sector
The Aon Mining Practice Group works to Empower Results for clients through our core capabilities of Risk, Health, Talent and Retirement.
New risks continue to emerge at an accelerating rate and existing risks are continually evolving. Our 2017 Global Risk Management Survey shows that more than half of risk decision makers anticipate their top risks to change in the next three years. Aon is not just here to help you broker your risk. We are here to use our expertise in your industry. Our insights on current and future risk trends will help you build a forward-looking risk management structure.

We support you across your entire risk spectrum, including:

Property and assets

Valuations
Business interruption

Enterprise risk management

Risk framework development and evaluation
Business continuity planning

People risk management

Workers' compensation reviews
OH&S contractor compliance reviews

Catastrophe planning and hazard mapping
Insurable risk management

Risk profiling
Loss limit modelling
Gap analysis
Retention analysis
Cyber risk workshop and insurance
Environmental risk insurance
Community event risks

Financial risk, market volatility and regulatory changes make it challenging for employers to design retirement programs that support business objectives and achieve positive outcomes for employees. In an evolving retirement landscape, our consultants help ensure your company's retirement programs are secure, equitable and sustainable.

We can help your organisation with:

Defined contribution consulting services that analyse your company's objectives and employee population to help you meet your retirement planning goals
Governance, risk and compliance consulting to help you understand key risks and statutory/regulatory requirements that impact your long-term employee benefit programs while balancing business considerations and both operational and legal risks
Design consulting to ensure the most appropriate retirement plan for your business and employees.

Longer life expectancy means we now have five generations in the workforce at the same time, and spend on healthcare continues to rise both for employers and employees. Our clients tell us that they are increasingly concerned about what this means for long-term health care costs.

The health market is complex, and it is important that you have a partner who understands the relationships between regulators, employers, insurers, and software health providers
Our relationship with a broad range of providers, carriers and regulators make us perfectly placed to know about the latest trends, plan designs and effective ways to manage costs. We can then use this knowledge to develop unique programs that deliver the best solutions for your employees and importantly manage costs effectively.

Working extensively with our clients we identified that talent management remains a soft science, with clients looking for more benchmarking data, technology platforms, analytical expertise and ultimately more certainty around connecting better talent with better organisational performance.

Our deep industry knowledge and a data driven approach ensures we can deliver actionable and objective insights, including:

Governance and human resources
Governance evaluators
Recruitment solutions

Leadership and talent consultancy
Employee engagement surveys
Community engagement surveys

Restructures and their impact on people
Aon's Expertise
At Aon, our strength lies in our ability to provide clients with a dedicated, global team of more than 300 specialists that are supported by 500 Aon offices in more than 120 countries.
Obtaining the broadest coverage at the most competitive rates in a niche market requires the skills of a firm that is active in the mining market every day. The vast amount of business we place in the mining market allows us to establish broader policy terms and conditions and competitive pricing when working with an organisation.
Reach Out for More Information
To learn more about our mining insurance and risk solutions, contact us today.