Aon hosts 13th annual Advanced Risk Conference in Australia
Aon will host its 13th annual Advanced Risk Conference next week, encouraging risk leaders to stay ahead of global trends so they can translate them at a local level.
This year's conference features some of the most accomplished local and international risk thought-leaders who will explore the new driving factors adding urgency and complexity to traditional risks, as revealed in the findings of Aon's 2017 Global Risk Management Survey.
Damage to brand and reputation, the top rated risk globally, will feature throughout the agenda, with sessions addressing cyber-crime, social media and hacktivism, risk culture, managing mental health in the workplace, and we'll hear firsthand how companies leading the way are putting resilient frameworks in place to manage risks.
Risk cannot be viewed in isolation; we live in an era of unprecedented and diverse volatility. Slow economic growth, changing demographics, rising geopolitical tensions, populist economics and rapid changes in technology are all converging. Interconnectivity and a global economy are increasingly impacting the local risk environment, forcing risk managers to become global risk translators.
Over 300 delegates are expected to attend the conference on 10-11 October in Melbourne with this year's theme of "New World Disorder" - exploring ways to improve risk management in an increasingly complex world.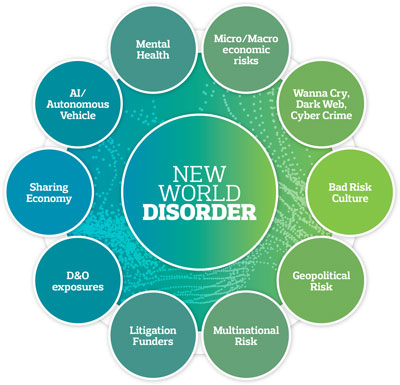 About Aon
Aon plc (NYSE:AON) is a leading global professional services firm providing a broad range of risk, retirement and health solutions. Our 50,000 colleagues in 120 countries empower results for clients by using proprietary data and analytics to deliver insights that reduce volatility and improve performance
---
If you elect to comment or engage with our content via third-party social media websites, you authorise Aon to have access to certain social media profile information. Please click here to learn more about information that may be collected when using these tools on Aon.com