Trade Credit Insurance for SMEs
Aon Debt Protect - Affordable cover made easy
In today's economic climate, one of the biggest threats to a business is the damaging impact of a large bad debt. A bad debt doesn't only wipe away profits, it impacts cash flow, weakens the balance sheet and takes management time away from running the business. Whilst most businesses recognise the risk, a trade credit program is often viewed as an expensive and complicated product unsuitable for SMEs.
Leveraging its position as Australia's leading insurance broker, Aon has developed Debt Protect; a simple and low cost trade credit insurance policy aimed at businesses with a revenue of less than $50m.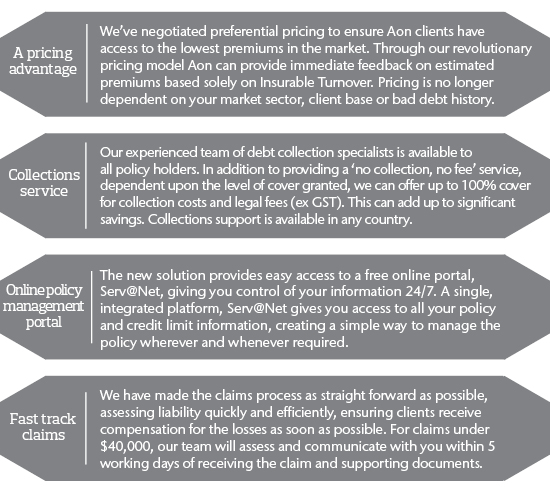 Aon's Debt Protect facility provides a safety net in the event of a client insolvency and it also:
Provides immediate feedback on the credit worthiness of your clients
Covers the cost of collections expenses when payment isn't forthcoming
Steers you away from high risk clients, allowing you to concentrate resources on lasting relationships
Provides a competitive advantage as you can offer increased credit to customers knowing your receivables are protected
For an indicative quote, please fill in our short form here and one of our team will respond shortly.