Aon marks April 28, World Day for Safety & Health at Work
SYDNEY April 27, 2017 - 28 April is World Day for Safety & Health at Work, a day to raise awareness about workplace safety and commemorate victims of unsafe work.
No one should be killed or injured as a result of an unsafe work environment. However, in 2016, 178 people tragically lost their life as a result of unsafe work. Preliminary estimates also indicate that 45 Australians have already been killed at work this year, so unfortunately there has not been much improvement this year so far.
The loss of a life or an incident causing injury or illness to a person significantly affects their families, loved ones and the wider community and impacts their livelihood.
As well as the devastating emotional impact, some tangible consequences include businesses risking direct and indirect costs in claims and productivity. The consequences for corporations and individuals not adhering to regulations are high, with penalties ranging up to $3 million and five years' imprisonment under the Work Health & Safety Legislation.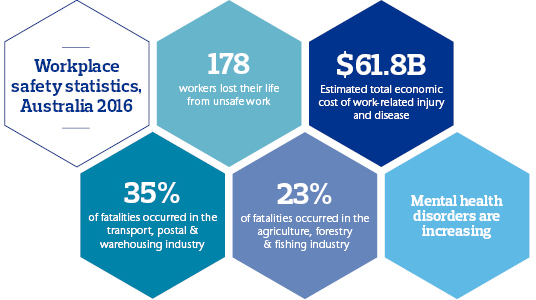 Health and safety starts with the choices we all make. Knowledge, communication and continual development empowers individuals and businesses to make quality choices for a safer, more productive and happier work environment.
Aon believes that healthy people equals a healthy business. This principle is at the very core of Aon's Work Health & Safety team, who offer a broad range of health & safety services to organisations to prevent injury and promote good health.
You can find out more here, and if you would like to discuss how Aon can further assist your business in the management of your Health & Safety, please contact your client manager or Jennifer Cameron.

Aon proudly support the Black Dog Institute in creating a mentally healthier world.

About Aon
Aon plc (NYSE:AON) is a leading global provider of risk management, insurance and reinsurance brokerage, and human resources solutions and outsourcing services. Through its more than 72,000 colleagues worldwide, Aon unites to empower results for clients in over 120 countries via innovative and effective risk and people solutions and through industry-leading global resources and technical expertise. Aon has been named repeatedly as the world's best broker, best insurance intermediary, reinsurance intermediary, captives manager and best employee benefits consulting firm by multiple industry sources. Visit www.aon.com for more information on Aon and www.aon.com/manchesterunited to learn about Aon's global and principal partnership with Manchester United.
---
If you elect to comment or engage with our content via third-party social media websites, you authorise Aon to have access to certain social media profile information. Please click here to learn more about information that may be collected when using these tools on Aon.com