Aon scoops up Best Hospitality Service Provider award in WA
Perth, 7 June 2017 - Aon were among the winners of the Australian Hotels Association (AHA) WA 2017 Hospitality Supplier Awards, which took place last month in Perth. These awards recognise the outstanding product and service providers in the Western Australian hospitality sector over the past 12 months.
Aon took home the 'Best Hospitality Service Provider Award – Regional', which specifically recognises excellence in customer service, efficiency in delivery of service, extraordinary effort in supporting customer sales, product knowledge, and understanding of issues impacting licensees.
Shelley Hymas, Client Director, Aon said, "This award win speaks volumes for the service and support that we provide as a team to the wider WA hotel and hospitality industry.  
"It also represents that we have the right team and resources to attend to the evolving needs of our clients."
Each award is voted on by members of AHA, from various sectors of WA's hotel and hospitality industry including accommodation properties, hotels, taverns, bottleshops, small bars, restaurants and tourism venues.
"Local, small and family owned businesses join large companies delivering exceptional, high quality products and services across Western Australia," said Bradley Woods, CEO, AHA(WA).
"The WA Hospitality Supplier Awards recognise the high calibre hospitality services and products in WA.
"Suppliers play a key role in ensuring the hospitality industry provides the best products and service to its customers.
"The awards also recognise the relationships between industry and suppliers that maintain important local jobs, business reputation and strength," said Mr Woods.
With 43 years' experience in the hospitality sector, Aon's great value insurance options can help keep your business safe. A dedicated Aon risk adviser, based locally, will work with you to effectively manage your business risks and insurance. For more information on our hospitality service and solutions, visit aon.com.au/hospitality or contact Shelley Hymas, Client Director, Aon on shelley.hymas@aon.com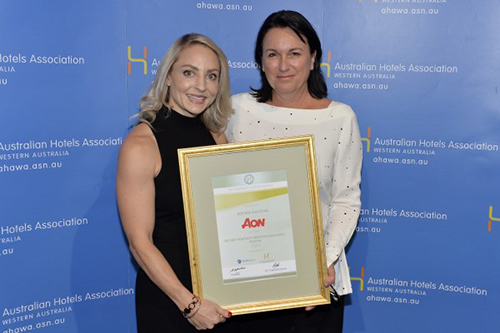 Sarah Richards (left), Aon Client Manager, collects the award for Aon.



About Aon
Aon plc (NYSE:AON) is a leading global professional services firm providing a broad range of risk, retirement and health solutions. Our 50,000 colleagues in 120 countries empower results for clients by using proprietary data and analytics to deliver insights that reduce volatility and improve performance.
---
If you elect to comment or engage with our content via third-party social media websites, you authorise Aon to have access to certain social media profile information. Please click here to learn more about information that may be collected when using these tools on Aon.com