Winery Insurance
Just as wine-making requires experience, innovation and knowledge, insurance for wineries is also a specialist business. Aon recognises that the wine industry faces many unique and specific risks and we have tailored winery insurance solutions for the wine making and grape growing industry.
Whether you own a large winery or boutique winery we have a specialist solution for you.
We've looked at the top Ten Risks faced by winery owners in Australia and highlighted some of the tops risks we could help your business to manage right now.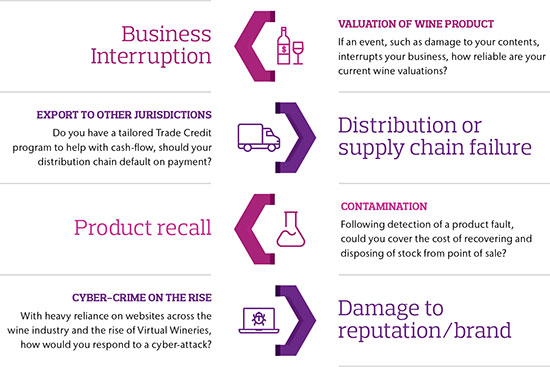 Expanded Polystyrene (EPS)
Expanded Polystyrene (EPS) is commonly is used in the winery industry, typically found in cool rooms and silos due to its obvious benefits; a great insulator, lightweight and easy to clean. However, what most facilities often don't realise is that these panels are also highly combustible.
How is the property market changing for wineries?
With the third largest year of loss for the insurance industry on record we are seeing a shift in the insurance market. One of the most notable changes is the decrease in appetite for properties containing EPS. The combination of the EPS and rural nature of most wineries means that insurers often see your property as a high fire hazard.
In this situation it is important that you work closely with a specialist broker who has an understanding of your business and the experience in presenting your business in the best light to the insurance market, minimising the risk of you being underinsured or facing sharp price increases.
Find out more about the Aon Coverage Guarantee for Wineries.